GTD Workflow Diagram
http://lifedev.net/2007/02/gtd-cheatsheet-the-workflow/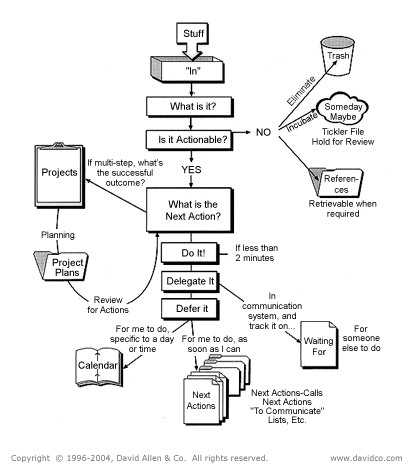 The Weekly Review
Loose Papers (Collect)
Process Notes (Process)
Review Calendar (Review)
Empty your Head (Collect)
Review Action Items (Review)
Review Waiting For List (Review)
Review Project List (and Larger Outcomes) List
Review any other Checklists
Be Creative and Do!
CPORD
Collect
Process
Organize
Review
Do
The "Tickler" file
The Tickler list need only be referred to once per week. On (Sundays), items scheduled for the week are allocated to their respective days.
---
When just beginning, the Tickler file isn't used much, as not-too-many events are scheduled there. But as you get going and build up your system, the Tickler becomes a convenient way to handle time-specific tasks.
---